Kirstie Broughton – Breathe Birth Yoga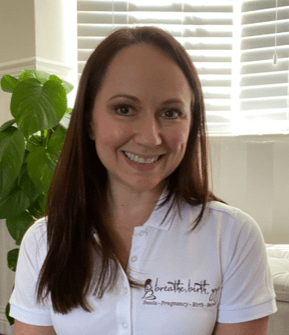 Hi, I'm Kirstie.
Congratulations on your pregnancy!
As well as being a KGHypnobirthing teacher I am a birth and postnatal doula, pregnancy yoga teacher, birth workshop facilitator, I support loss, and I have lots of other roles working with pregnant people and new parents.
I'm a mum, a step mum and I'm married to Steve. We live in the Essex countryside. I still use the positive affirmations and relaxations that I learnt when I was pregnant in everyday life to calm and ground me on busy days, I can't wait to share some of these with you!
I'm truly honoured to have attended lots of births during my time as a doula. The births I've attended have varied greatly, from water births at home, to elective and emergency caesarean births. All births matter and I've seen hypnobirthing techniques used during all types.
I am passionate about all things related to pregnancy and birth, but particularly about people know their rights and choices. Informed decision making is very important for yourself and your baby. I am also passionate about educating people about how their body and baby work together to make birth an empowering experience.
I love to learn, so if I'm not attending a birth, teaching a yoga class, chairing a meeting with the local maternity service or teaching birth preparation sessions, you'll find me learning something new, often relating to the work I do and love.  There is a list of my qualifications over on my website http://www.breathebirthyoga.co.uk on the 'about Kirstie' page.
I'm a big fan of Instagram and other social media channels, so if you'd like to find out more about me please take a look and I'd love to hear from you
Instagram: https://www.instagram.com/breathebirthyoga
Facebook: https://facebook.com/breathebirthyoga
Please send me an email to enquire about up and coming courses in the Essex area, or if you are interested in one to one sessions in your home
---
Find Hypnobirthing teachers by location