Fiona Smith – camhypnobirthing.co.uk
37a Wood End Bluntisham, Huntingdon, Cambridgeshire PE28 3LE, England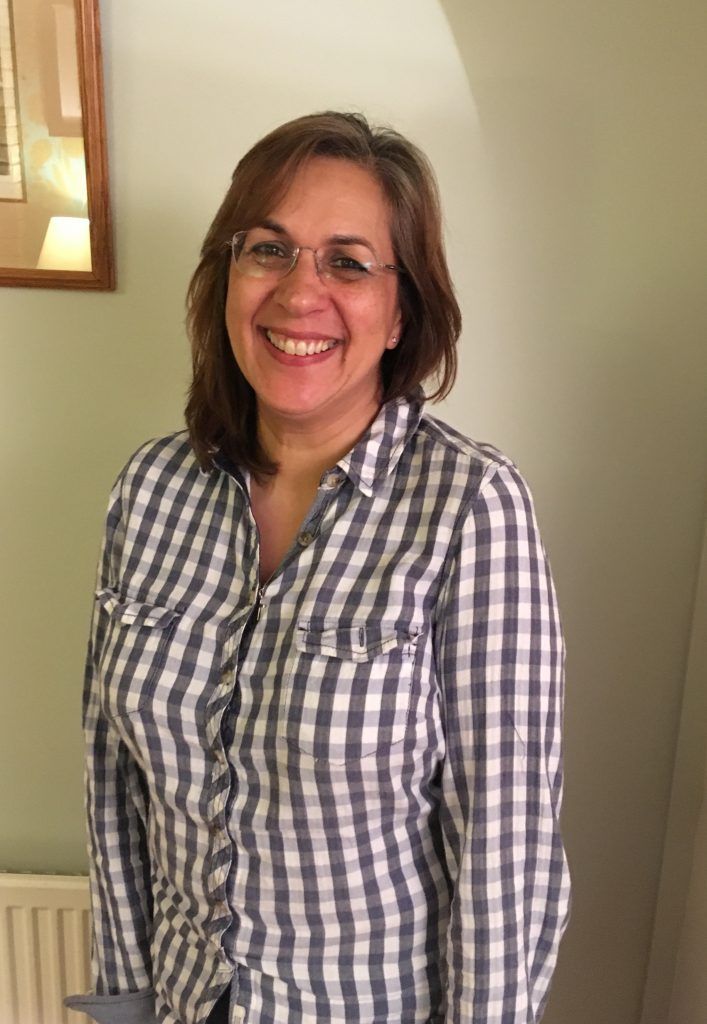 About Me
Having grown up in a large family, as the middle child of nine, I scarcely recall a time when I wasn't surrounded by babies or pregnant women.  It seemed natural for me to follow suit.  I started my family young and was blessed with five children, and now a brood of wonderful grand-children.
I always knew that I wanted to be a midwife.  However, when I left school, it was routine to train as a nurse before specialising in midwifery.  For many years I balanced a career in nursing with bringing up my children.  In due course, with support from my kind, patient and supportive husband and my then teenage children, I qualified with a degree in midwifery in 2007. 
Becoming a midwife has been the best choice I ever made.
For the last ten years I have worked in a busy maternity unit in Huntingdon.  I currently manage a large community caseload with regular shifts on the labour ward. I am fortunate enough to have been present for the birth of hundreds of babies, with each woman's birth story being unique. 
I support women throughout their pregnancy and see them at home with their new baby afterwards.  Ensuring women and their partners are well prepared for labour, giving birth and beyond is an invaluable and enjoyable part of my job.
My latest hypnobirthing feedback….Nov 2019 
Dear Fiona, 
Im rubbish with words, but hope this is ok :
'I can honestly say I had such a positive, empowering birth experience this time around, after a rather traumatic experience with my daughter first time around. Hypnobirthing played a massive part in this. Throughout labour i felt calm, in control & relaxed (even in the 40 minute car journey to the hospital) 
The breathing techniques Fiona taught us during our sessions were fundamental, the birth affirmations practiced, made me keep a positive mindset… I literally couldn't wait to meet my baby boy. 
I had the water birth i dreamed off, after arriving at the hospital at 18.45, and gave birth at 21.00. The midwide left room claiming I wasnt in "active labour" as "appeared too comfortable", and Jack was born two minutes later. 
Our baby boy was born calm and relaxed & has been content since (fingers crossed!) 
All this was achieved without any form of pain relief. Fiona came to our house to teach us these sessions, and gave us "homework", ideas to practice. We both felt extremely comfortable in Fionas presence, and she delivered the course in an interesting manner. 
A massive thankyou to Fiona & KGH hypnobirthing! 
 I would recommend this course to every mumma to be!'
 Hope this is ok, please let me know if i need to add anything. Thanks again, Amy, Sam, Pops & Jack X
Hi Fiona,
Here's our testimonial for hypnobirthing:
We highly recommend hypnobirthing for all parents-to-be.  Being needle and hospital phobic, I felt the exercises and knowledge learnt during the sessions with Fiona extremely beneficial. In the months leading up to the birth we were both extremely relaxed, confident and felt prepared for the big day. Labour lasted a total of 15 hours and I was able to stay at home using the breathing techniques,  affirmations and visualisations we learnt during classes, throughout my surges until I was 7cm dilated. Once on the delivery suite my husband played the relaxation soundtracks which enabled me to get 'in the zone' and he acted as my advocate so I could continue with the techniques. I chose to use gas and air to aid me alongside the hypnobirthing techniques and relaxed in the birthing pool, although did not deliver in the pool. The general atmosphere in the delivery room was calm and we feel that this was all due to the hypnobirthing techniques. The knowledge we both gained at the classes with Fiona made us confident to know we were making the right decisions later during labour when given the option to have an assisted delivery. Essentially, we would recommend hypnobirthing to any couple who are wanting positive, informative lessons on how to achieve a relaxing pregnancy and birth.
Happy New Year! Hope you've had a lovely christmas! We have been seeing lots of family and enjoyed Noah's first christmas :) He is 7 weeks old now! I have written you a testimonial-please do use it wherever you'd like! As an anxious person anyway, child birth is something I had given a lot of thought into before becoming pregnant. I didn't want to do labour. I have a genuine fear of doctors, dentists and anyone who wears a white coat, as well as being terrified of needles and any sort of pain. So when I was pregnant I decided not to even think about labour. This is very unlike me and as a teacher, I'm an over planner. I need to know every little detail to keep my anxiety at bay so when I had to think about labour I didn't want to think of pain, needles and birthing a tiny human. And that's where Fiona came in. I had heard stories about people having done hypnobirthing (mostly in the media) and them recommending it and it was an idea I had toyed with for quite a few months before going ahead and doing it. I found Fiona on a website and contacted her. She made it really easy to arrange a day to come over and get started. I was nervous before she arrived, I didnt know what to expect and my partner was a little sceptical. Fiona made us both feel really at ease very quickly. She talked us through what we would be doing in the sessions and listened to my worries before starting. We did some visualisations and to this day I am still amazed at how well some of them worked. I then listened to the cd's most nights before bed and read the book that was given to me. As well as this, Fiona recommended other books that she thought might help me as well as keeping in touch via email with quotes and videos I might like. The most helpful things for me were the breathing exercises and visualisations – the magic carpet in particular. But most of all it was the time Fiona gave to me, to answer questions and really explain the process of child birth to the point where I understood it and wasn't afraid of it anymore. When it came to the labour I can honestly say I felt in full control. Even though the arrival of my little one didn't go exactly to plan, I never panicked, I just completely focussed on my breathing the entire time. Id alway been sure that I would need all the pain management there was (I was nervous that it would be like you see in films) and my pain threshold is LOW, but when it came to decision time, I decided I could do it without – and this was no doubt the hypnobirthing! I was so in the zone, nothing could stop me! Thank you to Fiona, if you are reading this wondering if it is worth it, I can promise you that it is and it will be the best thing you can do to prepare you and your baby for the big day!
Courses
I offer one to one sessions for couples in your own home either on weekday evenings or at weekends. The course is approximately 10 hours and the classes can be arranged to suit you.
As well as my time I provide you with the following materials, so you can continue to become more familiar with the techniques: the KG Hypnobirthing book; relaxation audio in CD or MP3 format; your own training folder.
My total charge is £300.
To discuss or make a booking, please send an email with your telephone number and when it will be convenient for me to call you and get booked in.
---
Find Hypnobirthing teachers by location