Lynsey Baxter – Food for Thought
Schouweiler, Luxembourg L-4997, Europe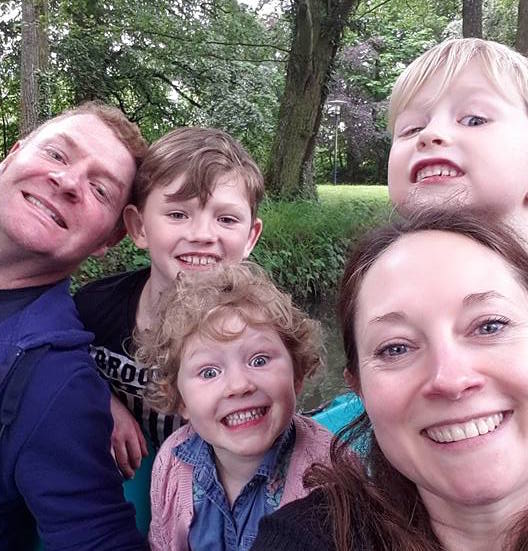 I am a hypnotherapist and used self-hypnosis during the birth of my first child.  I found it so incredibly powerful that I decided to go further and train in hypnobirthing so that I could provide women with even more benefits.
I want every woman to have the best possible birth she can.
MPIt was amazing in fact, me and my husband had one of the best days of our lives! After lots of natural inducing (ehm) we were so relaxed and in such a good mood. I started having the first contractions at 8 am but at that point i was already 5-6 cm dialated.  The up breathing visualisations helped immensely too!  And they (the midwives) did tell me afterwards that it was amazing to see how calm and focused i was when a contraction came! I have to say i was quite proud :)  suddenly the contractions i felt were very different, less painful, just lots of pressure. And then three downbreathing pushes later, Max was there  the doctor didnt even have time to arrive. 
 So what I meant to say was, thank you Lynsey, for helping us towards this incredible experience through your guidance. I do admit that there were moments when I doubted this would work out as I felt I was surely not practising as much as a proper hypnobirthing mum would. But then i though, it is still nice and relaxing so even just a little bit will be better than nothing. Plus, with a toddler in the house, it is so easy to almost forget you are pregnant! The fact that thanks to practising hypnobirthing i was making it a point to "spend time" with my second baby was very valuable on its own.
  AR and ERDear Lynsey, A note to let you know that ​we really appreciate taking the hypnobirthing course with you. Thank you again! We do believe that it has helped us immensely and wanted to share with you our experiences.  Mum My experience ​this time was so positive and far removed from the situation 3 years ago. I felt in control, was calm (relatively) and not fearful. We checked in the hospital at 1730 (after spending some time having a leisurely lunch, doing a bit of shopping in between my early 'surges' ) and our daughter arrived at 2000. E was so supportive, helping me to relax and encouraging me to breathe up/down  and taking charge (e.g. talking to the midwife etc) so I could just focus on my breathing. Unlike my previous experience (where I was unable to hold my son nor appreciate his presence many hours after he arrived via emergency C-Section), I was able to hold and enjoy my daughter as soon as she arrived. What a gift. Before doing the course with you, I was dreading the delivery – wishing for a speedy C-Section to just get it over with (believing that history would repeat itself and I would find myself in trouble/not be able to give birth naturally). My confidence however grew with each session and after reading the course material and listening to the recordings, making me believe it was possible to have a smooth and easy natural delivery. I admit, I'm far from a model student and did the course relatively late at 35 weeks – yet still, I I gained a lot from our sessions with you. Thank you. ​Dad​At first, I was a little bit skeptical regarding the hypnobirth​ing​ idea, but through out the sessions and practice, I could really see how A was becoming more relaxed and comfortable with the idea of a natural birth, which had a positive influence in the last weeks of pregnancy. It was also very good to understand the different scenarios and possibilities we had, so by taking decisions beforehand, we could really concentrate and go seamlessly through the birthing experience. As a husband, I would really recommend this course​.​NMHi Lynsey, when I will have some computer time, I will write you in detail about the birth – but right now I have to say it was the BEST birth experience, exactly what I had hoped for! and I know the classes helped a lot (although I had no time to use the recordings, it took about 15-20 minutes from when I entered the birth room until the baby was in my arms but I did use the breathing techniques and the strokes on my back were a bliss! )
Classes run for 4 weeks on Wednesdays from 19-21h for couples and from 10-12h for mum's.  The mum's class is for those whose partner can't get away from work or who have other children to look after (there is a one off Sunday class for the birth partners to attend).  Private classes can be arranged in your own home. Group classes are 300 Eur for couples, 375 Eur for the Mum's class and 600 Eur for private classes.
---
Find Hypnobirthing teachers by location