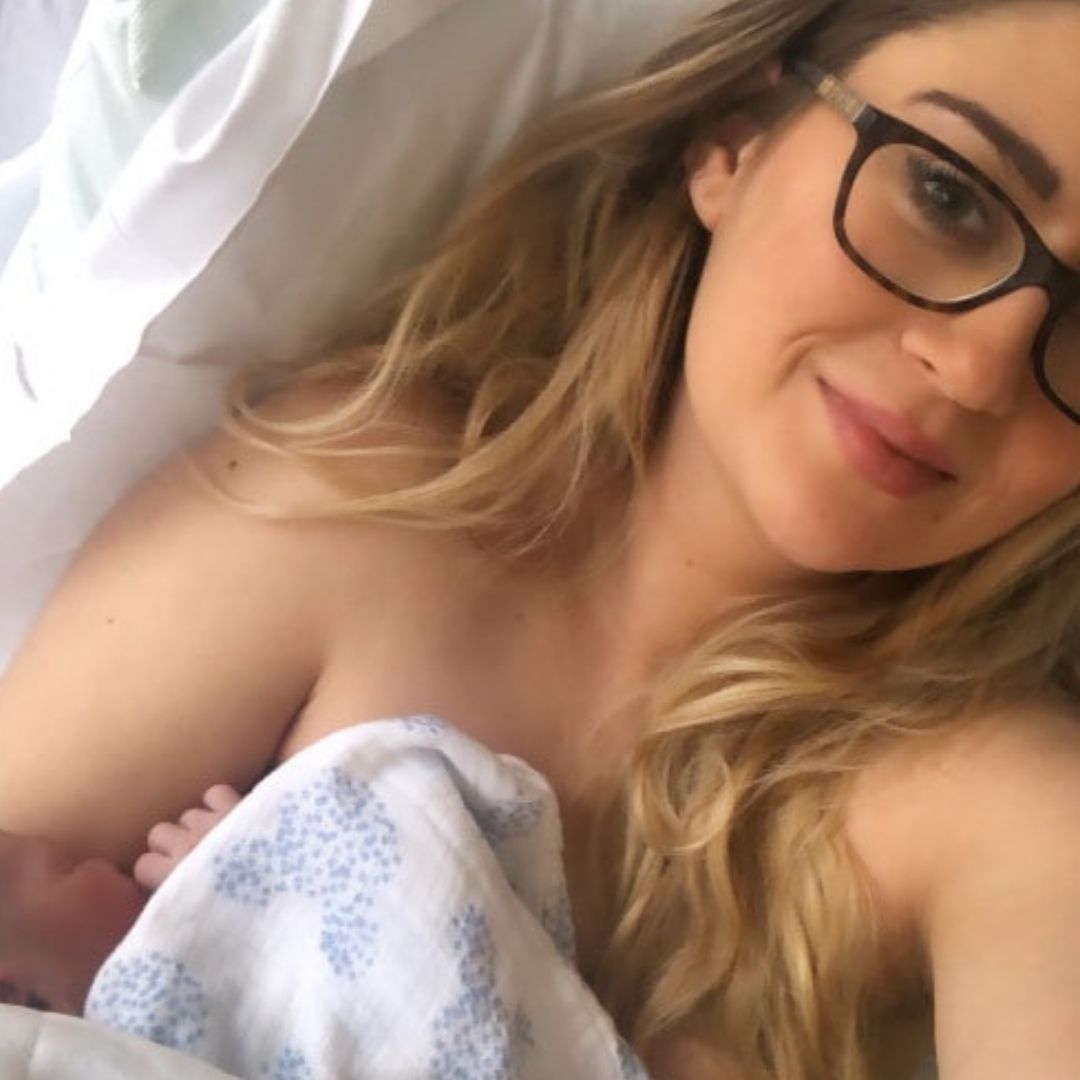 Our beautiful baby boy was born last Saturday morning at home as planned using purely the incredible hypnobirthing techniques you taught us. If you remember my main concern about giving birth this time around was that our second child's hypnobirth experience was SO amazing I didn't think that our third child's birth could ever match it…how WRONG I was!!
I'd like to share our birthing story with you as I still can't believe it was as easy as it was…!
On Friday 1st August my two children left for their caravan holiday with my mother-in-law, and I knew as soon as they had left the house that I was now ready for our new baby to arrive. That afternoon I went for a walk along the river in Richmond with my mother and sister, we laughed a lot and had a really lovely couple of hours. My mum then came with me to the hospital as being "the magic 40" now, the hospital were wanting me to be monitored as I was a day over my "due date". In actual fact they had wanted me to have a sweep at 39 weeks which I declined three times, they also advise that you are induced by due date, which I also declined. Your hypnobirth words rang out loud and clear at each midwife appointment "baby will come when baby is ready…baby knows best".
At the hospital the trace showed that the baby was very active and that I was also contracting. However, as usual, the hospital would not leave it at that and I found myself having a chat with the registrar after the trace, and sure enough she suggested that they induce me that day. I once again declined the invitation. She also suggested that I have a sweep before I leave the hospital – that too I declined. I have to say I was quite amazed that she was suggesting either since the trace showed the baby to be absolutely fine and that I was already contracting! The registrar finally asked if I would agree to another trace after the weekend, and I agreed for that to happen, although I did also add that I was not finding coming into the hospital a relaxing experience.
That evening I suggested to my husband that for once we go out to eat as we had no children in the house. He said he was tired after a heavy week at work and would rather get a take away. I told him that the trace showed I was contracting and that this may be our last chance for an evening out together…at that, he instantly agreed and we booked a table at a local pub.
After a lovely evening out we came home and did a hypnobirthing exercise, (we had been practising on and off since the refresher course you gave us back in April, building up the practice as we came closer to term), and then I drifted off to sleep. Around 12.30 surges began to appear regularly, maybe 5 an hour, which I breathed through in bed and then slipped back to sleep – my husband was none the wiser. At 7a.m I thought that it would be best to involve Jack, as the surges were becoming closer and stronger. I woke him and we went downstairs. The motion of getting up etc. caused the surges to come on quite quickly and I had several close together. It was very easy to breathe through them and visualise my hot air balloon going up into the sky. I also allowed to think of my baby now actively ready to leave the womb and that I needed to help him by opening up the muscles to allow him a swift exit.
Jack called my mum who was staying nearby and she arrived around 7.30a.m. I had some breakfast and a cuppa and watched an episode of The Royale Family, which we had recorded and which I just paused every time I had a surge. We called the hospital and asked them to let the home birth midwives know that I was in labour, and the baby was more than likely to be born today.
At 9.30a.m Jack decided to pop out and get a coffee for himself and a fresh Danish pastry for me. My surges were continuing, one every 5 minutes and although they only felt like 20 seconds or so, my mother said they were lasting a minute each. I was gently breathing through them making no sounds at all, and they were totally easy to cope with, and gone before I knew it. When Jack arrived back with the Danish for me (about 10a.m.) I needed to be on my own, so I took my pastry into the kitchen and had a couple of mouthfuls in between surges, and asked my husband and mum not to be with me. Then I had a very big surge and felt my waters pop! I told my mum and she called the hospital to tell the midwife we were very close now.
During the next 10 minutes a lot happened, I moved back into the front room and had back to back strong surges – again very easy to deal with – breathing and visualising, but then suddenly I needed to down breathe – the baby was coming! I asked Jack if everything was ready for me in the kitchen as I was ready to breathe the baby down. He gently moved me into the kitchen and began to read me the downbreathing visualisations, and the statements for an empowering birth, to keep me focused. The baby moved down very calmly and easily and I was ready for the head to be born. I held back though as the midwife hadn't yet arrived, and although my mum was ready to deliver the baby I didn't want to give her that responsibility.
Throughout, my birthing partners remained calm and focused, each with their own role to play.
A few moments later and the door knocked it was the midwife – phew…finally I gave in and allowed the head to be born, just as she put her gloves on. And then within seconds the baby's body followed too. I lifted him up and he was beautiful!
There was minimal mess, a very small tear which needed no stitches, the baby latched perfectly and fed easily immediately and the placenta arrived without difficulty about 10 minutes later. It was a text book hypnobirth, for which I will be in your debt once again!
I said to the midwife after the birth, (while eating the other half of my Danish pastry!) that I've no idea why there is a need for pain relief and intervention in childbirth, to the extent that there is in this country, when giving birth is as pain free as you want it to be. Visualise the end you want and that's what you can achieve – it's all in the mind.
I feel extremely passionate about hypnobirthing and so wish that every mother-to-be can find out the secret to swift and gently child birth like I have. I hope through you that you can share this with any mothers-to-be who are anxious about the day they will have to give birth.
Claire