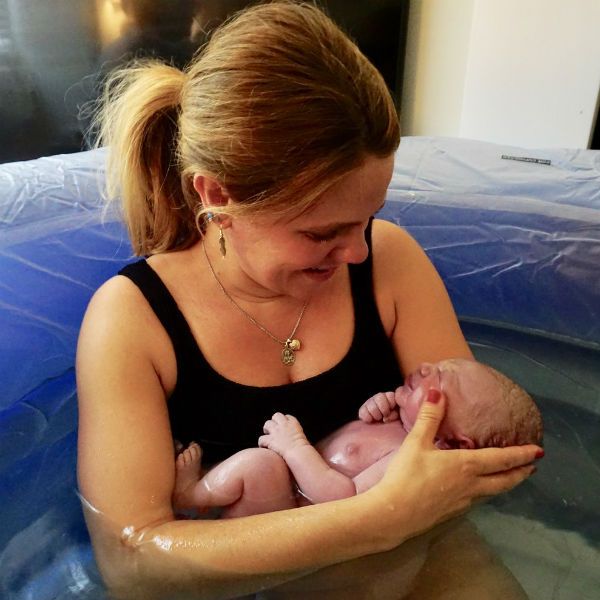 Here is my birth tale of baby number three, written, as he lies on my lap only a day old! We haven't decided on a name yet, so I will just have to call him baby!
So on paper his birth was around 2 hours, but of course that's established labour, which doesn't recognise all your hard work behind the scenes in the lead-up! This birth was a little more stop and start than I'm used to, which my midwife explained (in the nicest possible way) is actually quite common with third births and she described them as sometimes being unpredictable!
Labour started on the Friday morning and I was expecting things to just ramp up from there, but it pretty much stopped for the day with only a few sensations on and off. In the back of my mind I was probably thinking about the kids being collected from nursery and getting to their grandparents – so I wasn't completely relaxed at that point!
Things then picked up again on Friday night. Patrick went to sleep and I attempted to but I wasn't comfortable lying down. So I sat on the birth ball by the side of the bed, balanced some pillows on the bed and nodded off in between surges. I am pretty sure I had my TENS machine on at this point as I wanted to make sure I used it from early on in labour. In the early hours of the morning I made my way downstairs and the pacing up and down started. I started walking back and forth from the dining room to the front room whilst visualizing I was walking barefoot along a sandy beach. The fairy lights were on by this point and I was already using lavender oil on muslin, which I had used in my previous labour and always used when I practiced my Hypnobirthing. I also had a birth ball upstairs as well as downstairs so that was pretty useful.
I woke Patrick up about 5.30am as I didn't want to be alone any more.
The midwives arrived at about 8.15am. Things progressed pretty much straight away after I was in the pool and I just started to feel this incredible urge to push. I thought surely this was too soon and I even asked the midwives – of course because they were brilliant midwives they both said 'listen to your body' so that's what I did!
So baby boy was born an hour after the midwives arrived, at 9.20am weighing 8lb 2oz. As I'm writing this I it sounds a bit too good to be true, and I know I'm very lucky, but I'm not brushing it off as no big deal. It was incredibly powerful and pushed me to my limits and more. Afterwards, it again reminded me how amazingly powerful women are, however they birth their babies. What helped me was my birth partner, Hypnobirthing, the birth pool, lavender oil and my TENS machine, and feeling supported by my midwives at home in my familiar environment.