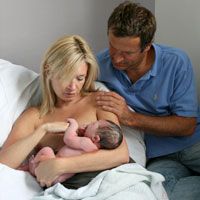 From the day we commenced our hypnobirthing course my attitude towards the birth of my child changed dramatically. An event that I was secretly dreading turned into something that I was really looking forward to. My partner was extremely supportive and towards the end of our pregnancy we were practicing at least one of the relaxation exercises each day.
On the evening of 20th July we went to bed at about midnight. I was cleaning my teeth when I felt a couple of lower twinges but convinced myself they were nothing as I knew if I actually believed I was in going into labour I would be too excited to sleep.
At 2:30am I switched the light on and asked Chris what was happening (as a father of 3 I thought he might have more of an idea than me!) to which he replied that he thought I was in labour. I immediately panicked as I hadn't washed my hair for 4 days and had no intention of giving birth to my first child with greasy hair! I hopped into the shower and whilst in there my surges dropped from about one every 10 minutes to one every 4 minutes – something that at the time I put down to the impact of the water – goodness knows why! They continued every 4 minutes whilst I was blow drying my hair and, whilst for a couple of them I put down the dryer to concentrate on my breathing, the majority of the surges came and went with no discomfort.
My freshly washed hair meant that I felt ready to progress so I called our doula, Maisie, at around 4am who said that she would head over to our house. By the time she arrived I had unpacked and repacked mine and the babies hospital things into more appropriate bags (!??) and was very happy to sit and catch up with her over a cup of tea. Unbeknown to me she was timing my surges (I found by this time I was having to concentrate on my breathing for most of them) and mentioned that I was having between 4 and 5 every 10 minutes and it was perhaps time to ring the hospital. I rang and they suggested that we head to the hospital.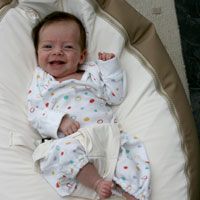 My partner chose a less busy route to the hospital as it was 6am on a Monday morning and he was concerned about heavy traffic on the A4. However, this route consisted of quite a few road bumps and for the first time I felt quite uncomfortable. I began having the sensation that I needed to go to the toilet but thankfully his route was quick and we were at the hospital within 20 minutes. After having a surge leaning on a bollard outside the hospital Maisie and I headed upstairs to the home birth unit whilst Chris parked the car. We were shown to our birthing room and I went to the loo and felt my child's head. I opened the door and told Maisie and for the first and only time during my labour felt a certain amount of fear that perhaps the baby was coming too quickly. Chris arrived and was immediately sent by Maisie to call a midwife (Only later did he tell us that he had problems convincing them that we needed someone ASAP as they did not believe how far along I was).
I was helped to a comfortable part of the room with bean bags where I sat on my hands and knees and within two more surges my beautiful daughter was born at 6:30am. Xxx
She has been and is the most wonderful little girl and I am so grateful to Katherine for providing us with the tools to have a fantastic birth.