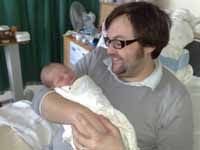 At last, and it feels as though your babies may all be teenagers by now, I am delighted to report the safe arrival of our baby boy, Gil.
He arrived last Monday (St Patrick's Day) 14 days from his due date having been jigged into action. I had just the first pessary and then he raced into the world with a surprisingly quick labour. The 2nd stage was estimated as 3 hours although I was not in fact examined after being 1-2 cm so we are not sure from when technically we should count.
I am certain that the techniques learned and practice put in by both me and Paul ensured a calm and speedy delivery with baby being beautifully positioned for birth. Of course, we forgot plenty of techniques but I listened to Katharine's CD several times over on earphones and the slow breathing was invaluable.
Because of being induced I was not at home for any part of my labour, nor was water available, but the birth was nevertheless calm and quick. There was surprise at the hospital by the midwives at the speed, ease and calm of the delivery.
Though I can not report a pain-free experience I can confirm that despite the speed of progress which was pretty intense, I never felt afraid or that my body and baby were doing anything other than just what they needed to do.
In fact when we were first home from the hospital and baby was in a bit of a tizzy late in the evening, I played him the CD and within seconds he was agog listening to what I am certain was familiar to him – we had played it every night in bed since December.
So a huge thank you to Katharine and I hope you are all getting on well with your babies. I am recommending the course to all of my pregnant friends and feel very lucky to have found it for me, Paul and Gil.
With love,
Harriet