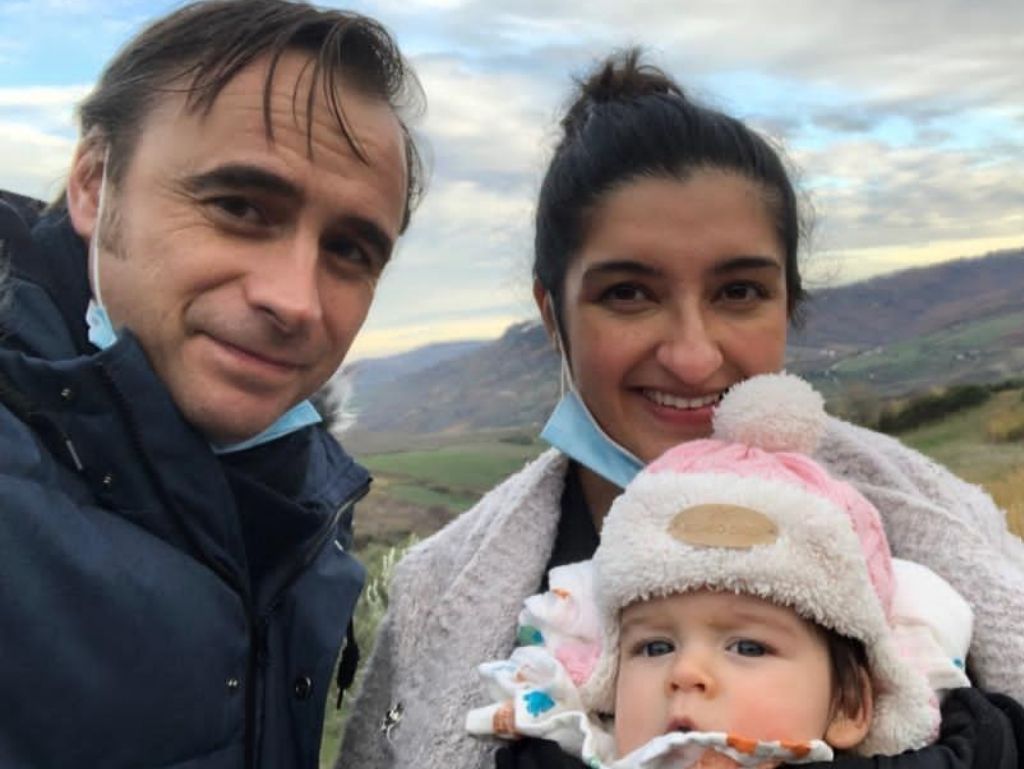 I waited until 1:00am the 13th of August 2020, and as I got into the car after being in labour since 4am the previous day, I let out a huge primal scream of relief and feel the baby is almost here!
It's a hot August morning and we live in a hilltop mountain town in the Italian region of Abruzzo. The country road to the hospital is a winding and somewhat bumpy ride, I have my Hypnobirthing relaxation on in the background as contractions are at their strongest and I have an overwhelming feeling that I may give birth in the car. I continue to sip my water, and practice breathing.
I arrive at the hospital, although we can park right outside the hospital, I calmly ask to walk (about the distance of a football pitch) to the hospital entrance, at no point do I want to slow my contractions- I wanted to keep everything moving. I arrived in a calm manner and as the nurse asked me to sit in a wheelchair, there was a huge gush and my waters broke.
I was taken to another room for the baby to be monitored and when I asked in my broken Italian, "how many centimetres am I?", the response was, 'You are 10cm, we have to deliver this baby now!" I was transferred to an operating room, where my husband told to stay in the waiting area, I was calm and excited, yes excited! The midwives instructed me to sit up, but I felt empowered and took control of the process by standing and walking, and sitting on a birthing stool. I practiced my 'down breathing', I felt in control, the nurse said, 'a few more breaths and you will meet your baby", which sure enough after a few more breaths out she came, "Healthy, Alert and Serene", it was a beautiful moment and it took an hour and a half or so.
So, how had I managed to stay at home for so long? Well, quite simply put, the hypnobirthing program had adequately prepared me to think positively, and see my birth as something not to be feared but a natural process of my body. My labour did not feel like 'stages' but more like a wave of feelings that had intensified as the day went on. I was able to have short naps, keep practicing my breathing and even watch an episode of Little Britain to keep me in good spirits while I ate my dinner around 9:00pm of Salmon and buttered carrots – yum! My husband was also able to remain supportive, however due to the Covid-19 we were delayed in prepping our bedroom, so he also remained in the background organising the bedroom for our week early arrival.
I am from the U.K, however we had bought and restored an old stone house in Italy in complete nature which was needed, after living in the hectic city of Shanghai for many years. When Covid-19 intensified, I didn't really have the option of giving birth in the U.K and that frightened me as I wouldn't have my family around. What made it worse was, along with restrictions for husbands not being able to be with mums in labour, the hospitals in my area don't have any form of pain relief and the anxiety was all too much!
My first trimester was terrible, I was nauseous and sick from about week 7 to week 15, but when my sister mentioned hypnobirthing, I thought, why not! I am a qualified yoga teacher so it seemed like it would complement my routine – or even replace it since I was quite weak from the vomiting. By week 19, I had purchased The Hypnobirthing Book and read this alongside listening to the Katharine Graves recordings every evening, or sometimes twice a day. I was able to start practicing yoga again, eat well and walk every evening – I had gestational diabetes by the end of my second trimester so eating well and exercise was paramount.
I was active and calm throughout my labour, however, as the baby arrived early I wasn't able to complete my birth plan. In the last half hour of labour, the nurses decided to hook me up with oxytocin as they agreed the operating room was colder and this may slow down the process. This was tricky for me, as I wasn't able to effectively communicate that I didn't want this, however when I was given other instructions such as to lie down, I refused and took complete control – I was alert and empowered. My labour is something I can look back on as a treasured experience, something wonderful, natural and empowering. The hypnobirthing experience equipped me with the knowledge, and the physical and mental strength to see me through one of the most important experiences of my life!
-Farah