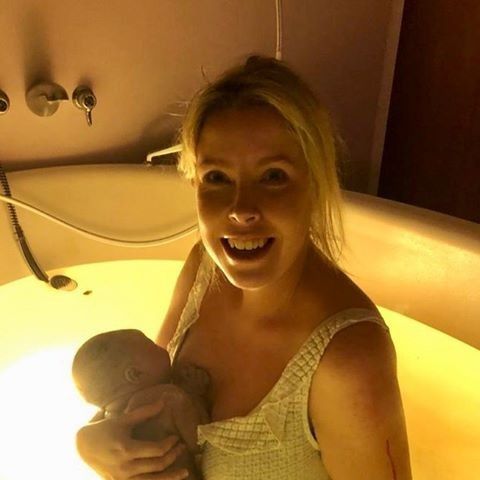 After learning about hypnobirthing during my first pregnancy four years ago, I knew straight away I wanted to practice again for my second pregnancy. I loved all the relaxation techniques so much and felt so passionate about the benefits that I decided I would like to become a hypnobirthing teacher so I signed up for the KG Hypnobirthing teacher training course in January whilst 30 weeks pregnant and was so excited to give birth in March. I actually gave birth to my second daughter on my given due date which I know is rare! Funnily enough my first daughter was also born on her due date!
Through out my pregnancy I felt so happy and calm, I practised hypnobirthing from around 20 weeks pregnant and would listen to the relaxation MP3's most evenings and sometimes even in the morning. I had a very long labour with my first which ended in me being given the syntocinon drip, an epidural and a forceps delivery. I practiced hypnobirthing first time too and honestly believe it helped me get through all of the above, I was so calm that when I was taken into theatre one of the doctors asked if the heart monitor was working correctly! Mine and my daughters heart beats were both so stable and calm they couldn't believe it. It turned out Millie was back to back and had her head in a funny position which is why I needed assistance but I am so thankful for the hypnobirthing techniques! After that experience I was even more determined to have a much shorter labour and the water birth I had dreamed of so I practiced even more and visualised my dream labour/birth regularly. I visualised a 5 hour smooth and serene water birth and I cannot believe it actually happened!
I went into labour around 3pm on my due date but wasn't really sure if it was a false alarm or not so didn't really say anything to my husband yet. Around 4pm I realised it was the real deal as the surges were every 8 mins so I called my mum and dad to come over as they were going to look after Millie. The original plan was that both my mum and husband would come to the birth centre with me but I was told only one birth partner was allowed for safety reasons. I was upset but I understand this is necessary right now so went with it. Once my parents got to ours I got in the bath and Millie got in with me which was lovely (she's just turned 4) she was amazing and kept reminding me to breathe and she was even helping time the surges which were every 5 mins at this stage. They got stronger very quickly and by 6pm I said to my husband I think it's time to get to the birth centre, we got everything ready and left at 6.30. The car journey was pretty hairy in that I genuinely thought the baby was about to come! We got to the birth centre at 7pm, I got in the birth pool around 7.20pm, my waters broke at 7.43pm , I was given some gas and air at 7.35 and Juliet was born at 7.57! It was so amazing and wonderful and serene. I caught her and gently brought her up to the surface and discovered she's a girl. I was so happy shouting 'I did it! I did it!' I couldn't believe how quick it was, especially as my first labour was 4 days in total. The second stage of Juliet's labour was recorded as 14 minutes!
I felt so happy afterwards, it was such an amazing feeling. I hardly lost any blood and only had a very minor tear which I put down to the fact I didn't push Juliet out, I breathed her out with the down breathing techniques which I found so effective. I also kept saying 'each surge is bringing me closer to meeting our baby' which I found really got me through.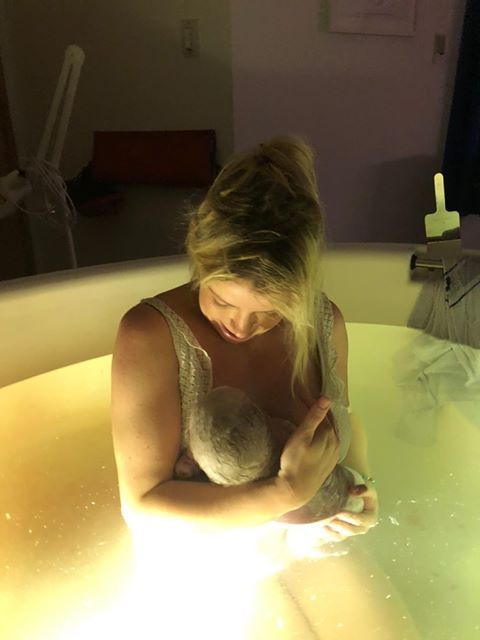 Juliet is such a calm and content baby and I definitely believe the hypnobirthing practice has a part to play – my first daughter is also very chilled and was a super calm baby who slept through the night from 5 weeks old. Juliet is also sleeping very well so I really feel the hypnobirthing practice has a major part to play. After Juliets birth the midwife said 'you must have had lots of oxytocin as it was so smooth and quick' I explained that I had used hypnobirthing breathing and relaxation techniques and that my daughter was with me for most of it which must have raised my oxytocin levels. I was also imaging her laughing when I was in the birth pool and my husband was gently stroking my arm which must have done the trick!
I don't know if I could have had this amazing and empowering experience without doing the kg course so thank you so much! It was beyond amazing and I will be forever grateful. I also managed to remain calm during what is a very scary and uncertain time so I am also beyond grateful for that.
Thanks so much!
Faye