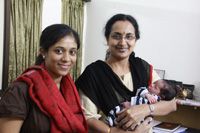 Dear Katharine,
I am Padma from India, residing in the UK. I attended your Hypnobirthing class last August at St. Thomas London. Me and my husband Jay are elated to announce the arrival of our little son Yajur on 29th Nov. His arrival was 100% natural with no medical intervention nor any form of pain relief (in medical terms).
My early phase of labour started at 10.00pm on 28th Nov. When I walked into the hospital the next morning, I was already 3-4cm dilated.
I practised slow breathing throughout with up visualisations prompted by Jay. My labour progressed throughout the day on 29th. I realised my surges coming frequently but truly, did not feel the intensity building. I relaxed completely with lavender and clary sage aroma in my room along with sips of raspberry tea. Light touch massage and stroking relaxation was of immense help. I opened 8cm at 8.pm when I moved to the labour room. At this point, I was walking and talking through my surges. After an hour and a half, I was fully dilated and I moved to down breathing to help my waters break.
This was the stage when I remembered the fact that the woman's body will find its comfortable place to birth the baby down. I found my mind guiding me into the toilet when I had surges. Of all the space available in the room, I released my water in the toilet and I found myself starting to breathe down the baby. Then I adopted sqatting with my head resting on the bed. After few surges, I felt the head emerge and the doctors around insisted me to adopt a slanting J position for their convenience. After few more surges, our little son arrived (11.26 pm, 29th Nov) with no screaming noise around but only with his father's voice talking throughout and a very calm atmosphere. He cried and pooed immediately. The doctors gave him to me immediately and started breast feed to expel the placenta. Very soon I surged and the placenta was delivered naturally. I did not tear hence no stitches.
Jay equally worked hard along with me which I cannot explain through words.
Without him, our baby would not have born the way he was. He was just amazing. I feared the doctors in India pushing me for medical interventions but my doctors left the whole labour to us both and used the word "breathe"
when they were around. They kept calm and helped me birth the baby my way.
Overall, it was a wonderful experience for me, Jay and our little boy. I can truly feel the calm in him touch wood, he sleeps well and doesn't cry in distress.
Jay and me would like to thank you for introducing us to such a wonderful concept of hypnobirthing which we are advocating to all our friends. I am attaching a pic of me and my baby with our doctor.(hope you remember me).
Kind regards,
Padma