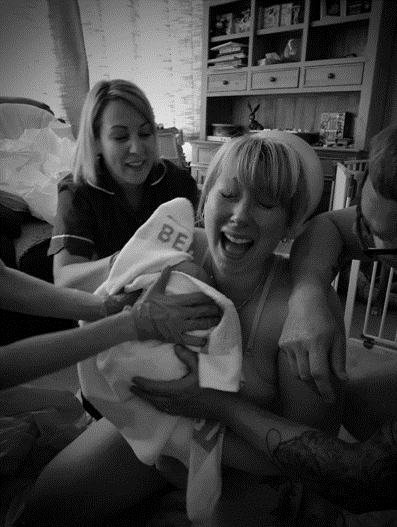 Megan was one of the runners up in our recent birth photo competition. We asked for photo submissions around the subject 'The Wonder of Birth' and this is what Megan had to say about this.
"To me the Wonder of Birth is the best wonder in the world. I had an amazing birth all thanks to hypnobirthing and the midwifes who are growing to support us hypno mums. Following a long, uncomfortable and stressful birth with my first I was determined my second would be relaxed and calm. I never imagined what happened could be possible, I'd heard about it but never thought that could happen to me, but it did!
My husband delivered our son at home after 11 hours labour, which actually meant dropping off our daughter at nursery, doing some food shopping, baking a cake, practising yoga, having a long soak in the bath and listening to music before going into my space and focusing on birthing my baby. I love the mentality of hypnobirthing, by focusing I felt him move down, I relaxed and let go. I breathed him out quickly and peacefully, the midwifes were shocked when he started to show. I listened to my body and then cried out "I did it" the now famous words at our home. All the photos were taken by my mum in floods of joyful tears who captured the "I did it" moment perfectly on her phone. I recommend hypnobirthing to anyone who listens, its a truly wonderful experience!"
Megan, 2019.