We are very excited to be bringing our popular teacher training course to Wales.  Becoming a Hypnobirthing Teacher can be a very rewarding experience.  It is ideal if you are looking to upgrade your skill in this area or launch a new career helping parents to be have a calm and natural birth.
Some Welsh residents my be eligible for a Welsh Vocational Training Grant.  To find out more information please talk to a Careers Wales Officer.
Hypnobirthing Teacher Training in Cardiff
KG Hypnobirthing offers an in depth training course giving you a KG Diploma in Hypnobirthing.
The course includes three modules – two online modules you complete at home before attending a further modules over 3 days:
Online Birthing Foundation
Online Hypnotherapy for Hypnobirthing
KG Hypnobirthing Teacher Training
To read more information about the course please click here.
Course Dates
Please note that we do not have any upcoming dates booked in at this venue.  We have face-to-face courses in London and Zoom courses.
Course Venue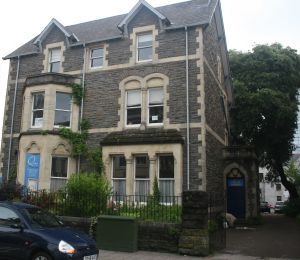 Conveniently located in central Cardiff at the Quaker Meeting house.
Address:
Quaker Meeting House,
43 Charles Street
Cardiff
CF10 2GB
Refreshments
Tea and coffee are provided in the breaks, and there are plenty of cafes and places to pick up lunch nearby.
How to Book
You can book online here and please feel free to call and discuss your application if you have any questions that are not covered in our general information. We welcome every and any question you may have as our purpose is to ensure that everyone gets the very best training and is fully qualified to be a Diploma holding KG Hypnobirthing Practitioner, it is a great opportunity to spend time learning about what you want to achieve.
Call us: 01264 535002 or Book Online
If you have any further questions, please take a look at our Teacher Training FAQ