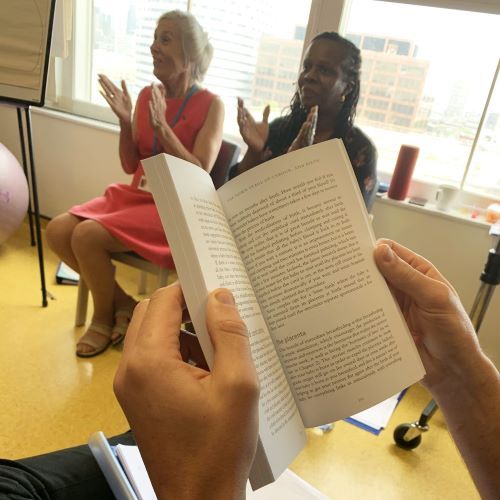 Entrepreneur and influencer, Rachel Hunt, recently came to Katharine's KGHypnobirthing parents courses at St Thomas' hospital with her husband Sam and has written a wonderful review of her experience.
Being Rachel's first pregnancy, she was feeling bombarded by people asking how she was going to give birth. She was struggling to answer the question, until, she says, "I discovered hypnobirthing." She had heard friends talk about hypnobirthing but didn't really know what it was. She already knew she wanted a natural birth, but beyond that, had no idea apart from wanting her husband Sam to be as involved as possible.
Rachel says "Many people think that hypnobirthing is a little 'out there', perhaps border-lining on being a bit airy-fairy, but I can assure you it is not. Its logical, simple and practical. Hypnobirthing can change and empower both the mother and father and has the most profound effect on the baby which will last a lifetime. For me, that is the best gift I can give to my son as he enters the world."
She explains how the KGHypnobirthing course gave Sam a clearly defined role and that he will now be a huge asset to her when she goes into labour. He became fully immersed in the course, asking lots of questions. She even says they have become closer as a couple having done Katharine's KGHypnobirthing course! On day one you learn the basics of pregnancy and birth, looking at the process your body goes through in labour and why. "The basics for me were crucial", Rachel comments. She also says the antenatal education session has made the pair of them informed enough to make the best decisions for their baby, be it ignoring due dates (read our "due months" article), understanding induction and seeking information with evidence to make decisions about their baby's birth.
Since attending the KGHypnobirthing course, Sam has placed positive affirmations around the house and Rachel receives daily positive statements from Katharine, which are free to anyone who signs up for them on the KGH website. Sam and Rachel have been practising relaxation techniques every evening, including visualisations, stroking and introducing fragrances such as lavender to help her relax.
And one unexpected benefit Rachel experienced from attending Katharine's course was making new friends – the couples who attended the group now have a Whatsapp group and are in contact with each other as they all draw closer to their baby's birthdays!
Each month, Katharine Graves runs a KGHypnobirthing parent's course at St Thomas' hospital in London.
Rachel's blog can be found here.