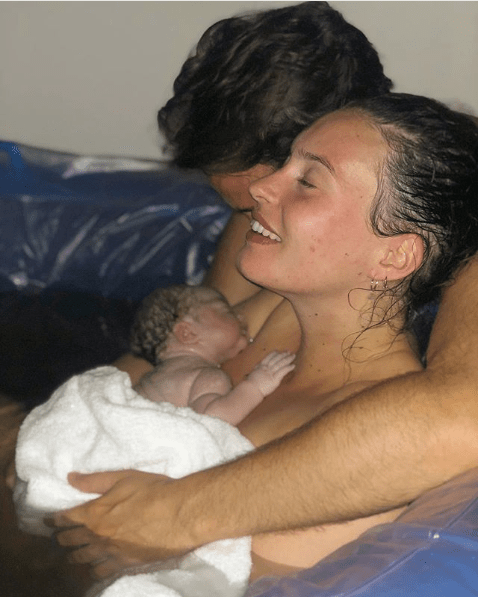 Congratulating Ella (@DeliciouslyElla) and Matt Mills on the birth of their daughter, Skye, on Saturday, I feel absolute delight when I hear about a birth like this thanks to our teaching. The empowering birth which Ella experienced didn't just happen – it was the result of the rational choices she made.  She chose to do a KGHypnobirthing class and she and Matt put in the daily practice needed to help her have a calm and confident mindset.  Her husband Matt attended the KGHypnobirthing course too, so he was fully prepared to support Ella in her choices.  Having expert support from those around her meant that she could focus on listening to her body and birthing baby Skye gently and normally.
The KGHypnobirthing course is profound and parents-to-be often remark that there is far more to it than they had expected.  They finish up with a comprehensive knowledge of birth, techniques that make a practical difference to how the body works in labour, and information on how to navigate the system they find themselves in with an enquiring mind.  Knowing that you have choices based on reason, evidence and research, and the practical means of applying this knowledge is the real essence of KGHypnobirthing.
It is when I hear about births like Ella's and her pure joy at experiencing such a 'surreal, extraordinary moment' that I am overjoyed at another positive birth.  I and all the wonderful KGHypnobirthing teachers understand the privilege of teaching KGHypnobirthing, and I am glad to be an inspiration and a source of wisdom.  We are all here to provide you with the tools to an empowering birth.
Katharine runs monthly parent classes at St Thomas' Hospital in London, we have KGHypnobirthing teachers all over the UK and internationally or if you can't make a face-to-face course, there's always the KGHypnobirthing parents' online course.
{source}<script async src="//www.instagram.com/embed.js"></script>{/source}