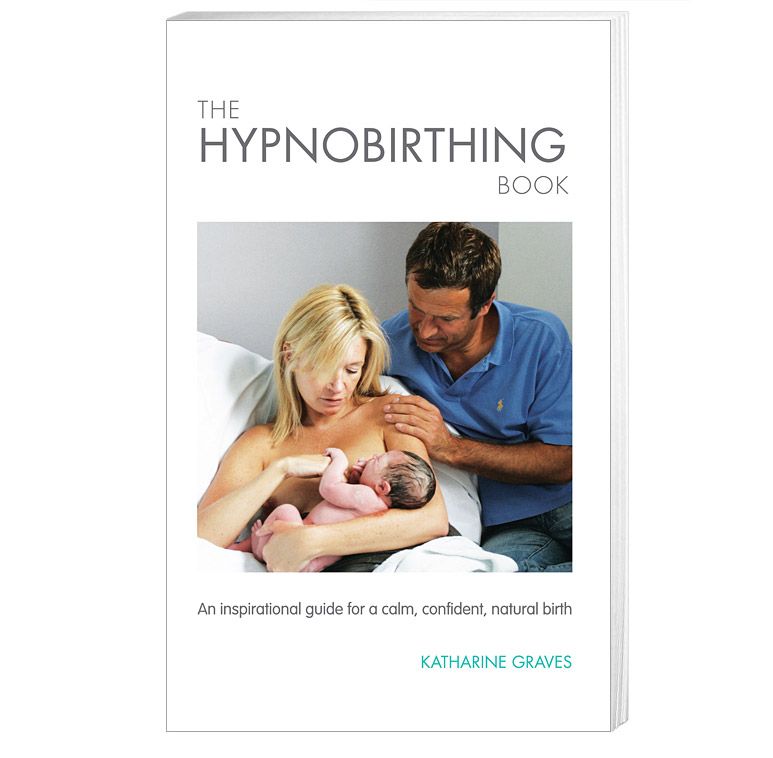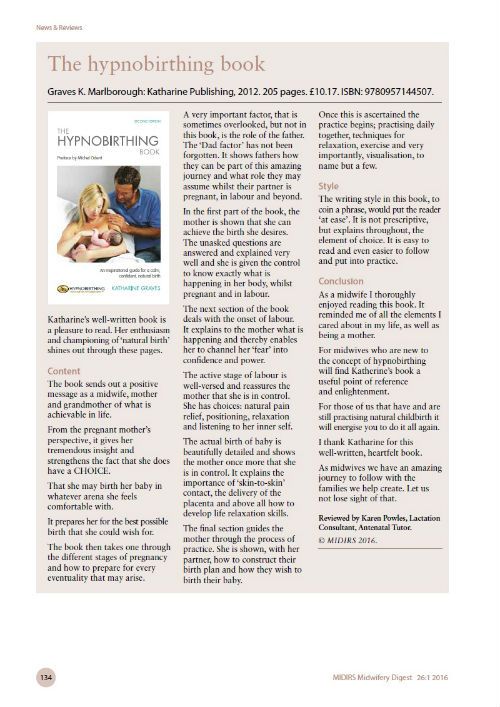 Thank you to Karen Powles, Lactation Consultant and Antenatal Tutor for the recent review in the MIDIRS Midwifery Digest 26:1 2016. You can subscribe to the MIDIRS Journal here.
To purchase a copy of The Hypnobirthing Book please visit our shop.
The Hypnobirthing Book
Graves K, Marlborough: Katharine Publishing, 2012. 205 pages. £10.17. ISBN 9780957144507
Katharine's well-written book is a pleasure to read. Her enthusiasm and championing of 'natural birth' shines out through these pages.
Content
The book sends out a positive message as a midwife, mother and grandmother of what is achievable in life.
From the pregnant mother's perspective, it gives her tremendous insight and strengthens the fact that she does have a CHOICE.
That she may birth her baby in whatever arena she feels comfortable with.
It prepares her for the best possible birth that she could wish for.
The book then takes one through the different stages of pregnancy and how to prepare for every eventuality that may arise.
A very important factor, that is sometimes overlooked, but not in this book, is the role of the father. The 'Dad factor' has not been forgotten. It shows fathers how they can be part of this amazing journey and what role they may assume whilst their partner is pregnant, in labour and beyond.
In the first part of the book, the mother is shown that she can achieve the birth she desires. The unasked questions are answered and explained very well and she is given the control to know exactly what is happening in her body, whilst pregnant and in labour. The next section of the book deals with the onset of labour.
It explains to the mother what is happening and thereby enables her to channel her 'fear' into confidence and power.
The active stage of labour is well-versed and reassures the mother that she is in control. She has choices: natural pain relief, positioning, relaxation and listening to her inner self.
The actual birth of baby is beautifully detailed and shows the mother once more that she is in control. It explains the importance of 'skin-to-skin' contact, the delivery of the placenta and above all how to develop life relaxation skills.
The final section guides the mother through the process of practice. She is shown, with her partner, how to construct their birth plan and how they wish to birth their baby.
Once this is ascertained the practice begins; practising daily together, techniques for relaxation, exercise and very importantly, visualisation, to name but a few.
Style
The writing style in this book, to coin a phrase, would put the reader 'at ease'. It is not prescriptive, but explains throughout, the element of choice. It is easy to read and even easier to follow and put into practice.
Conclusion
As a midwife I thoroughly enjoyed reading this book. It reminded me of all the elements I cared about in my life, as well as being a mother. For midwives who are new to the concept of hypnobirthing will find Katherine's book a useful point of reference and enlightenment. For those of us that have and are still practising natural childbirth it will energise you to do it all again. I thank Katharine for this well-written, heartfelt book. As midwives we have an amazing journey to follow with the families we help create. Let us not lose sight of that.
Copies of The Hypobirthing Book can be purchased in our shop here.