The Mama Conference is always an inspiring event and KGHypnobirthing is delighted to support it. This year I had the privilege of being invited to speak on 'Midwives Tuning in to Hypnobirthing with Mothers.'
It is a very heart warming to see the snowball effect that hypnobirthing is having with so many midwives now having first hand experience of a hypnobirthing mum and seeing how transforming it can be for women during childbirth. I discussed this alongside the common misconceptions about hypnobirthing.
One is that it is a method of pain relief in labour and the other is that it is a load of techniques that you learn to use in labour. Neither of this is true.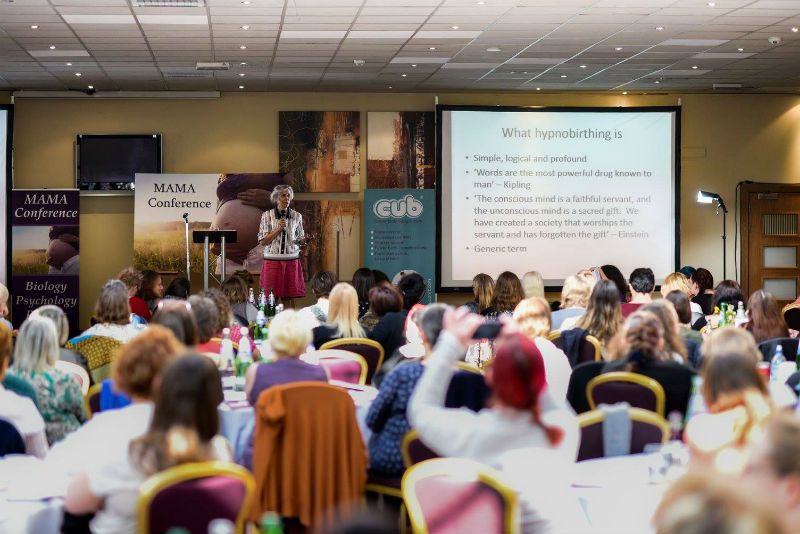 Hypnobirthing is NOT a method of pain relief in labour because it works on a completely different premise. It works on the principle that if you learn to use your mind to work with your body, the pain may not be there in the first place. If it is not there, you don't need to relieve it.
Hypnobirthing is NOT a load of techniques to use in labour because it is actually a way of educating a woman to release her fears, stresses and the assumptions she may have been programmed with throughout her life so that her mind and body can work together positively in the way nature intended for an efficient and comfortable labour and birth.
To fully explain both of these rather sweeping statements is what you learn on a KGHypnobirthing course. You often see top sportsmen and woman work with a sports psychologist to achieve the best results for them, you could regard hypnobirthing as the sports psychology of giving birth.
If you are a midwive or birth professional supporting women in childbirth you may be interested in finding out more about this revolution in child birth that is helping women. As one midwife is quoted as saying "I've never seen anything like it. It's how every birth should be." You can read some more midwife hypnobirthing stories here and find out more about our birth professions KGH teacher training course here.
The Mama Conference has a fabulous line-up of speakers for next year, click here to find out more information.