The Ultimate Birth Relaxation Audio supports your KG Hypnobirthing practise, and will give you confidence during your pregnancy and your baby's birth, and help you feel calm and relaxed.
How to use: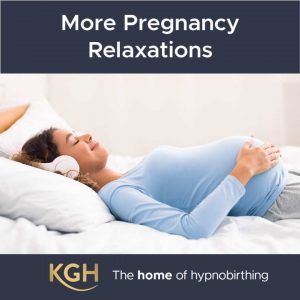 This audio includes 3 deep relaxations and statements to help you achieve a positive state of mind ready for the birth of your baby.
Listen to the audio each night as you go to sleep. It's better to listen through speakers because not only will you get a good night's sleep but so will your partner. And what's more, your baby can hear it too and he or she will associate the sound with Mum relaxing, so when you play it in labour, the baby will already associate that sound with relaxation, which is good for him or her, as well as for you. Some mothers also play it after the baby is born when putting it down to sleep if it is a little bit fretful and I'm told that it can be very calming.
People sometimes say to me, 'If this is the audio to listen to in pregnancy, is there an audio for birth?' This completely misses the point. It is the regular practice you do in pregnancy that programmes you to relax more and more deeply when you listen to this audio. It has a cumulative effect so that, when you listen to it as you give birth, the relaxing effect is extremely profound.
KGHypnobirthing, a full antenatal programme, is a system that is simple, logical and profound. Nothing can promise the perfect birth, but hypnobirthing gives you the tools so that you can achieve the best birth for you. Many people talk about what makes the best environment for giving birth: low lights, soft music, and so on, but Hypnobirthing is the only system I know that makes such a positive difference to your experience of giving birth, for you – and for your baby.
Never listen to this audio in a car, when you are working machinery, or when you need your alert attention for something else.